Can An App For Real World Everything Work? Enter Kibits
Kibits [<-- app store link] is a new iPhone application launched out of Kendall Square in Cambridge, MA, one of two ridiculously hot technology beds in the Boston area. Founder Matt Cutler calls Kibits an "app to be used in the real world", but I am not sure that really captures the essence of what is happening.
First and foremost, Kibits has a lot going on. That's OK for you because if you are reading this blog, chances are you are a startup enthusiast, CTO or CEO, a venture capitalist with ninja mobile skills, a social media power user, marketing wizard or Edward Boches, who is impossible to put into any one bucket. It takes the best functionality from mobile, social and business tools and puts them into one app.
Kibits is great for many things, but what I think is most compelling is its PRE / DURING / POST model around the following uses:
A) Building content around an event or place
B) Proximity based real-time communication
C) Ongoing conversations about projects, recurring meetings and family business
The thing that Kibits does that many applications don't do is it allows you to access and share cloud-based assets. What? Yes. It's one of the first applications to have connections to you Dropbox so that you can share documents. Let's take a look at the use cases above in a pre / during / post context:
PRE
Kibits is awesome for pre-planning, pre-seeding content for an event. We used it at a Silicon Valley Bank event earlier this year. Matt pre-populated the "kibit" (aka group) with documents, ideas and photos that would give us a sense of who was speaking, the agenda and relevant writings from the speakers.
DURING
People were then allowed to join the kibit based on their proximity to the event and contribute to a very rich, relevant discussion about the speakers. Sure, this can happen on twitter and kibits should allow people to cross post, but the real power here is in the threading of the information, the virtual breadcrumbs, no, LOAVES of bread that kibits leaves behind are amazing. You get a full sense for what happened at the event given participation. Caveat: Matt and I both wrangled as many people as we could at the event, got them to download the app and asked them to participate in the discussion, in other words, some assembly required, but it was worthwhile.
POST
The conversation can actually continue for days, months or years (in theory). People can stay connected and know exactly how they were connected because they're still talking about the event, with the people they connected with in the same context. In other words, the value of events can be extended by Kibits.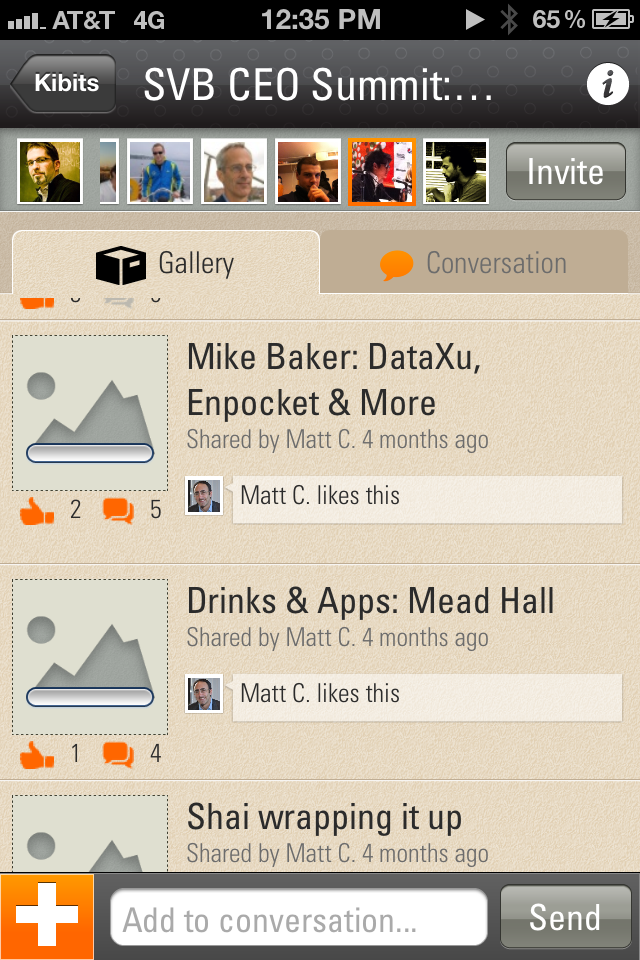 So head to the app store today and give Kibits a shot and let them know what you think. They are very interested in feedback and please note, there is a bit of a learning curve at the beginning and they are very open to feedback.