Alternate title: Being Indie Doesn't Mean You Have to Be a Stupid Business Person
XMU is my third favorite source for indie music behind WOXY (RIP) and NPR. I love the ever-changing music, the Download 15 and the endless interviews with great indie bands. I was listening to an interview with a member of the band Mountain Goats this afternoon. I assume it was John Darnielle promoting their recently released "All Eternals Deck", which you can get for $5 right now (sorry if the deal expired when you read this) on AMZN. I got ripped off by iTunes. I caught the end of the interview, so if it wasn't Darnielle, I apologize and will correct the post, but I'm going to refer to the speaker as Darnielle because he is the leader of the band and would probably make the kinds of strong statements that I am going to talk about…
Cliche Tired
Darnielle started disparaging twitter, Facebook and tumblr specifically as mediums to release an album. He was attacking marketing. He talked about how using channels that businesses have discovered is tired. He generalized about how businesses do not understand how to use the mediums, manning their accounts with people who only exist to ask people to buy products. He encouraged artists to considered bolting from the channels simply because businesses are on them and that they are becoming another avenue for advertising. Seriously? Testing into new channels constantly is very indie and smart, but leaving them just because others see the value is cliche indie behavior and it is backwards and it has already been done by the likes of Trent Reznor and Edward Droste of Grizzly Bear, the latter of which was using twitter brilliantly and left suddenly and unexpectedly.
Artists: Darnielle's behavior is so indie cliche.
And he is dead wrong.
The thing that Darnielle is failing to remember is that not only does everyone in social media have a unique presence, but that everyone has a unique experience. We do not all follow the same people and we do not all see/hear/touch/taste/digest the same messages. Mountain Goats have been on twitter since August 21, 2009. They have spent 590 days amassing followers who are interested in creative random thoughts, interactions and their music. And by the way they have been building trust to the point where OF COURSE they can ask their followers to buy their new CD, which they do in this very tweet: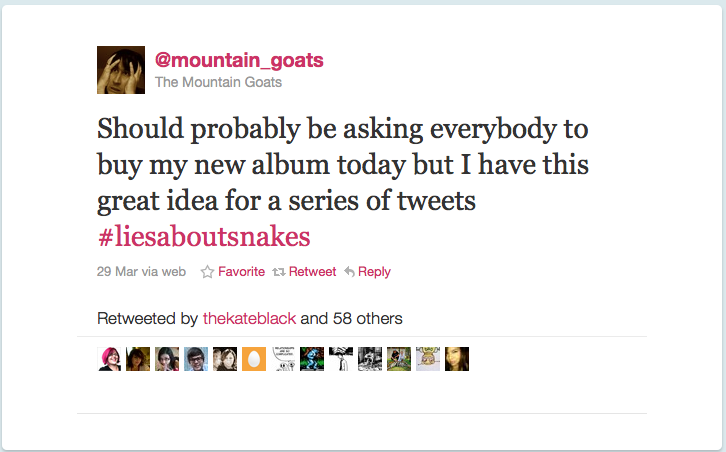 Success is OK
Being indie does not have to mean being a stupid business person. And thinking about how you are going to monetize your music does not mean you are not indie. All it means is that you do not make compromises with your music, style, ideals to get where you want to go. It does not mean you have to throw everything away. It means you need to have a plan and stick to your guns without whoring yourself out to everyone who would throw a dollar at you. Do not throw something away just because some people you do not like get into it. Reinvent it. Keep leading. Keep doing it better.
Guess what? If you do things right and if you are good, at some point the mainstream finds out about you and starts to like you and starts to buy your stuff. What are you going to do? Give the money back? Of course you will not. You will buy some new clothes and equipment that you have been dreaming about. You will schedule a larger tour, make a new album and you will give some money to causes you care about.
In other words, you will succeed, but you will do it on your terms.
PS: File this post under tough love (and buy the album).
PPS: Mountain Goats +10 epic geek points for MtG reference in their album title!