Alternate title: Being Indie Doesn't Mean You Have to Be a Stupid Business Person
XMU is my third favorite source for indie music behind WOXY (RIP) and NPR. I love the ever-changing music, the Download 15 and the endless interviews with great indie bands. I was listening to an interview with a member of the band Mountain Goats this afternoon. I assume it was John Darnielle promoting their recently released "All Eternals Deck", which you can get for $5 right now (sorry if the deal expired when you read this) on AMZN. I got ripped off by iTunes. I caught the end of the interview, so if it wasn't Darnielle, I apologize and will correct the post, but I'm going to refer to the speaker as Darnielle because he is the leader of the band and would probably make the kinds of strong statements that I am going to talk about…
Cliche Tired
Darnielle started disparaging twitter, Facebook and tumblr specifically as mediums to release an album. He was attacking marketing. He talked about how using channels that businesses have discovered is tired. He generalized about how businesses do not understand how to use the mediums, manning their accounts with people who only exist to ask people to buy products. He encouraged artists to considered bolting from the channels simply because businesses are on them and that they are becoming another avenue for advertising. Seriously? Testing into new channels constantly is very indie and smart, but leaving them just because others see the value is cliche indie behavior and it is backwards and it has already been done by the likes of Trent Reznor and Edward Droste of Grizzly Bear, the latter of which was using twitter brilliantly and left suddenly and unexpectedly.
Artists: Darnielle's behavior is so indie cliche.
And he is dead wrong.
The thing that Darnielle is failing to remember is that not only does everyone in social media have a unique presence, but that everyone has a unique experience. We do not all follow the same people and we do not all see/hear/touch/taste/digest the same messages. Mountain Goats have been on twitter since August 21, 2009. They have spent 590 days amassing followers who are interested in creative random thoughts, interactions and their music. And by the way they have been building trust to the point where OF COURSE they can ask their followers to buy their new CD, which they do in this very tweet: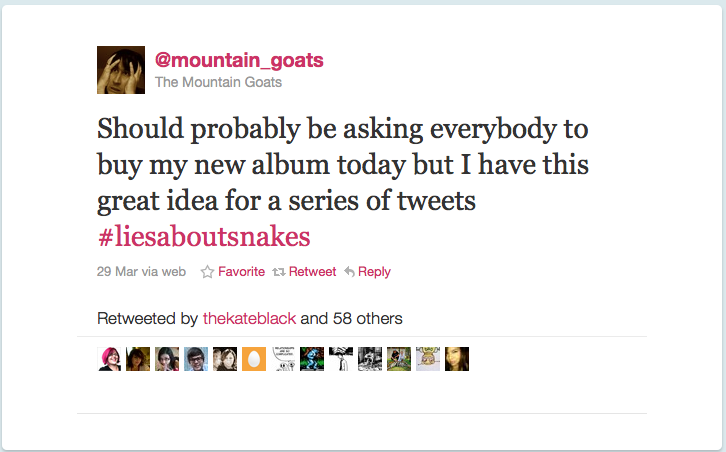 Success is OK
Being indie does not have to mean being a stupid business person. And thinking about how you are going to monetize your music does not mean you are not indie. All it means is that you do not make compromises with your music, style, ideals to get where you want to go. It does not mean you have to throw everything away. It means you need to have a plan and stick to your guns without whoring yourself out to everyone who would throw a dollar at you. Do not throw something away just because some people you do not like get into it. Reinvent it. Keep leading. Keep doing it better.
Guess what? If you do things right and if you are good, at some point the mainstream finds out about you and starts to like you and starts to buy your stuff. What are you going to do? Give the money back? Of course you will not. You will buy some new clothes and equipment that you have been dreaming about. You will schedule a larger tour, make a new album and you will give some money to causes you care about.
In other words, you will succeed, but you will do it on your terms.
PS: File this post under tough love (and buy the album).
PPS: Mountain Goats +10 epic geek points for MtG reference in their album title!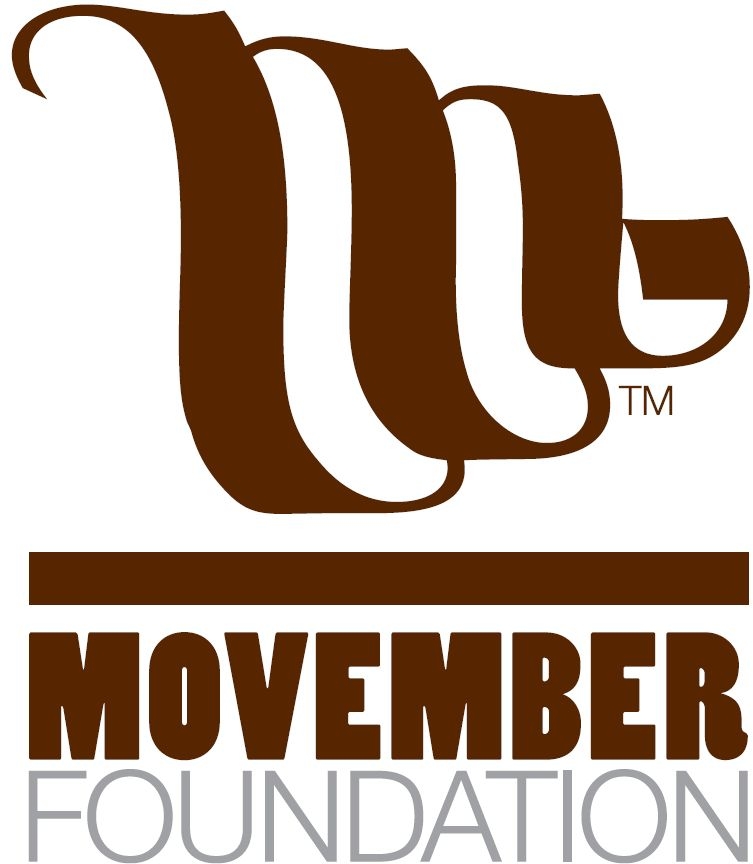 When we tell people about Movember, the men's cancer research charity founded by Adam Garone and a bunch of friends who, over beers, decided to both give back and revive the moustache, we usually hear a couple of standard things:
I can't grow a moustache
My wife won't let me grow a moustache
Movember is not really not about growing a moustache. The good ones are cherished and so are the bad ones. Movember is about giving and it is about bonding. Movember is a community of people who are passionate about the destruction of cancer. That's right. Movember is a global community of men and women in Australia, New Zealand, Canada, South Africa, Europe and the United States. Movember is about stories of friends and loved ones who have been affected by this terrible disease, raising awareness, making research possible and celebrating the efforts of those who are involved. But it is not all warm and fuzzy, Movember is also a little competitive.
Graham Nelson told me about Movember. I remember the day he told me informed me that I would have to shave my beard in order to grow a moustache to raise money for cancer research and treatment. It took some convincing. I like my beard. Graham talked about challenging our friends in Austin to raise more money than us and that we could use any means necessary to spread the word. The Movember Digital Challenge was born. Last year Team Boston devastated Team Austin by raising near $25,000 dollars to Austin's 20,000+. The components of the challenge were events, videos, photos and good old fashioned smack talk!
As a participant last year, I felt the need to step up my own involvement in the organization. I recently appointed myself Digital Challenge "Chief of Global Team Expansion", a promotion from my last week's title, VP Director of Expansion. The beauty of Movember is that people feel passionate about the cause. It's easy to do. It's rewarding. It's impactful and yes, it's fun. You can pretty much decide to just do stuff and it happens.
I am happy to announce the 2010 Movember Digital Challenge to kick off on October 31, 2010 with the annual "shaving of the facial hair". Is it a #MoUp? Nope. Its a #MoDown [I want to remind all participants that a beard is not a moustache. Shave down to nothing and no "connecting" for the month of November.]
Teams from across the globe will be competing for the title of Grand Champion. The idea is to use any legal, means necessary to raise money for the cause. This means holding events, creating content via twitter, youtube, facebook… hell even dribbble – whatever it takes. This year's Movember site will have a Digital Challenge leaderboard which will show team progress as well as individual leaders.
Teams captains are being named now and can be found on the official Digital Challenge Movember Team Captains list.
Last year teams made videos, created flickr albums, got corporate sponsors, had events and even made calendars. There was trashed talking alsoside camaraderie. There was showmanship, particularly when David Armano and Team Austin leapfrogged Team Boston with a generous donation from The Art of Shaving. This year people have been promising to go bigger. Last year we started planning in late September. This year? Well as of today, it's still April.
Here is the official list of team captains as of now. Talk to them about joining their team. The official team site is not open yet, so we are suggestion that team captains keep a list (perhaps an email newsletter, twitter list or a Facebook group) of people who are interested in joining. More details about the challenge will be released as they arise.
The Original 2
Team Austin : #TeamAUS : Aaron Strout
Team Boston : #TeamBOS : Graham Nelson
Expansion Teams
Team Raleigh/Durham/Chapel Hill : #TeamRDU : Gregory Ng
Team Toronto: #TeamTOR : Sean Moffitt
Team New York City : #TeamNYC : Lisa Kolodny
Team Charleston : #TeamCHS : Chad Norman*
Team Salt Lake City : #TeamSLC : DJ Waldow
Team Seattle : #TeamSEA: Damon Cortesi*
* = mostly committed
TBD:
United States
Team San Francisco : #TeamSFO
Team Denver: #TeamDEN
Team Chicago: #TeamORD
Your City
Global
Team Melbourne: #TeamMEL
Team Sydney : #TeamSYD
Team Dublin : #TeamDUB
Team London : #TeamLHR
Team Aukland : #TeamAKL
Your City
TeamBOS News
#TeamBOS (This year we are shortening and standardizing the hashtags) has already had several major developments: Jim Storer has named himself Director of Recruiting. Derek Peplau on the very same day told Jim that he would be sharing the job! Karen "Pumpkin Spice" Costa aka. VanillaBean45 appointed herself Director of Corporate Relationships.
I like clothes. I like colors. I like designs. I think the clothes a person wears tells a story about the person, so I try to make the things I wear represent who I want people to think I am. Gary Greenberg, Executive Creative Director at Allen & Gerritsen (my employer) and clothing afficionado and I often compare notes about our favorite designers. The other thing we like? Bargains. We both want to change it up a lot so we are looking to make our resources go as far as possible. These are two extremely disparate philosophies for guys who like designers like John Varvatos, Hugo Boss, Robert Graham, Ted Baker, Paul Smith and (angelic music) Barker Black.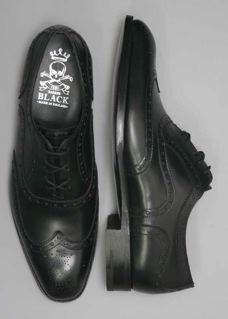 So sure. I have passion for clothing. I like brand names. I know what colors match and I have an eye for shoes, but I also know what I don't know.
I'm not always sure what fits. I don't know squat about knits. I am not that strong in accessorizing or making sure that the stuff I buy is mix and match. So when I was approached to participate in the Men of Social Media Makeover, I didn't look at it as an insult, I looked at it as a chance to learn a thing or two and hopefully kick my game up a notch.
Here's video of me shopping with Emmi.
Shopping with a Style Consultant from Schneider Mike on Vimeo.
Enter Emmi Sorokin whose passion is fashion- or so I thought. Emmi actually is about putting men in clothes that make them feel comfortable. She believes that clothing is important, but she also wants to make sure that she understands your needs, your budget and your life objectives. OK, this is making it sound like Emmi is all business. She has a lot of energy and she knows the stores she will take you to cold. That means when you go in, she has already seen just about everything in the store – or, in my case, has pulled a good deal of the clothing in advance so you can just dive right in. I think part of the reason we got along was that I was upfront about my objectives.
Talk about your goals and your budget
Be frank about what your goals are in life and in business. Letting Emmi know a little about my lifestyle made it easier for her to recommend clothes that are not only cool, but make the statement that I want to make. I also told her that I was not willing to break the bank and that as much as I would like to buy a ton of clothes, I had to stick to a certain amount. Emmi knew how to make the most of the money I was comfortable parting with. That said, be realistic. Don't expect Emmi to be able to clothe you for the season on $50
If you don't like it, don't buy it, but be open minded
I tried on a lot of clothes. We liked some and we didn't like others. We agreed on most things but there was a sweater that she liked that I nixed. I tried on everything that she asked me to try on. I kept open to any idea that she brought out. As a result I learned a lot about how to wear sweaters, which I had no clue about how to do properly and I learned about a store that I never would have considered going into.
Have fun
Go in with an attitude that going shopping doesn't need to be a chore. Emmi brings a lot of energy to the situation and she knows what she's doing. She is great for fashion beginners and also for people who are fashion clueless. Either way, she will treat you like you are the most important person, she will make sure you have a good time, she will respect your budget and your goals and I guarantee that when she's done, you will look great and feel great about your wardrobe.

Emmi did not approve of this.
Come Out During Fashion Week
Oh, and if you want to see what Emmi did for Mike Lewis, CC Chapman, Stuart Foster and I, come to the Men of Social Media Makeover!

Starbucks VIA Instant Starbucks from Schneider Mike on Vimeo.
Guy Kawasaki was hanging out in the blogger's lounge early one morning at SXSW. He had a coy smile and announced that he had something cool that we would all love. As a result, I got to try Starbucks VIA! Thanks Guy!
It all started a month ago when @melkirk tweeted:
About an hour later I got a direct message from Tony Hsieh asking me to send along my questions.  Tony's and Zappos' committments to the nanoblog twitter have taken the already excellent customer service of Zappo's to a new level by giving people the ability to directly access its entire cast of characters.
I asked Tony what makes a good follow on twitter and how he decides who to keep track of in his near 14,000 follows.
Each morning when I come to work, I try to steal a few minutes of time to read four web comics. I have tried a bunch of others, but I find that these are the ones that give me a mental boost that kicks off my day in a way that caffeine cannot. In other words, "clever" is my morning drug of choice.

During my first year at the agency, I had the pleasure of working with strategic mastermind, Justin Holloway, now with Dye, Holloway, Murray in London. We were working on a pitch and he was explaining the brand identity of Trader Joe's. He summarized it as a company that sort of brings the epicurean delights of society to the common man.
Trader Joe's specializes in being an affordable gourmet store. They eliminate the middle man by producing their own foods with vendor partners. If the food does not meet their quality standards, they have no problem with axing it or making it unavailable until they find a new partner. They carry very few brand names and will often carry a brand name until they can clone it to their standards (like Nutella). The shocking thing is that the industry average for product development is 9 months. Zara is rumored to be able to develop a product and get it to market in 2 weeks. When I first read about Zara, I thought not only is this a fantastic model, but it is a lot like Trader Joe's.
Google introduced a new line of googlevative designs for their iGoogle personal portal. They assembled some of the best known designers, artists and musicians to build a series of trendy skins as part of Google's global effort to allow its users a way to make their experience unique. Bonus they can also express their love for some of their favorite artists.