Time for the annual roundup! This was not the best year for music. Some bands REALLY disappointed the hell out of me, like The National, The Ruby Suns, Animal Collective, Deer Tick and Yeah Yeah Yeahs. And don't get me started on how badly (my favorites) Arcade Fire shit the bed. Oh and the worst album of the year goes to the (always super @%$(ing sucktastic) Pere Ubu. Seriously. What a MESS. Oh and I should have put Ellie Goulding's Halcyon on last year's list. The reissue is brilliant and I love the Alt-J cover…
Let's stop messing around and get on to the GOOD stuff.
Haim – Days are Gone
LA sisters, 3 of them. The youngest was born in 1991. They're obviously huge Fleetwood Mac fans, but I forgive them. I like "Falling" best.
Wild Nothing – Empty Estate
Honestly, more of the same from Wild Nothing, but it was a good more of the same. The twangy guitars with the surreal emo vox make for a great run or commute with the top down. "The Body in Rainfall" works on any indie playlist.
Portugal, The Man – Evil Friends
As a purveyor of evil and an evil friend, I felt a connection to this album before I ever even listened. These guys formed the band in 2005 in Alaska and since have moved to the much more hipsteriffic Portland, OR. Plastic Soldiers starts off with some awesome whining synth-horns and lets you know that if it keeps up like this it's going to be awesome. The good news is that it does. The keys and vox remind me of Cloud Nothings on quaaludes. There's a little folk, a little funk and a lot of synth-candy.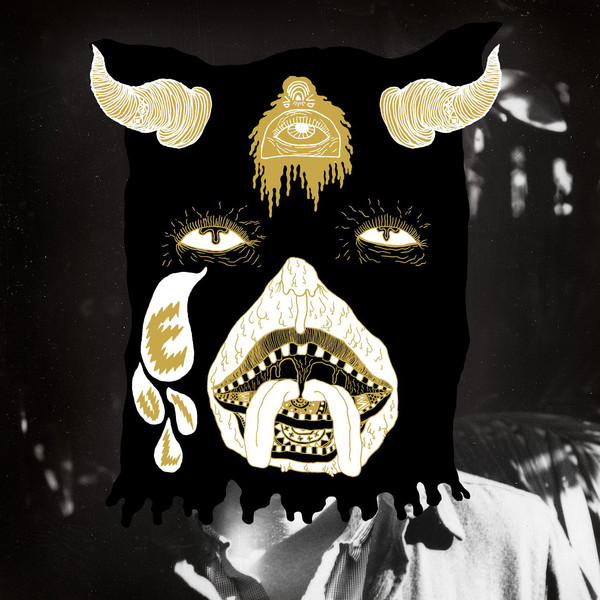 Cut Copy – Free Your Mind
Aussie DJ magic. It's really easy going and fairly uncomplicated, but if you're longing for a New Order or Pet Shop Boys fix that isn't coming any time soon, this is the album for you.
Neon Neon – Praxis Makes Perfect
I wasn't a huge fan of Super Furry Animals, but this side project by Boom Bip and Gruff Rhys was pretty fun. There are some interesting 70s moments that remind me a little of what Hall and Oates would have been, you know, if they were from Wales. There are also hints of Men at Work and Twin Shadow. "The Jaguar" and "Hammer & Sickle" are the strongest tracks. Yay propaganda!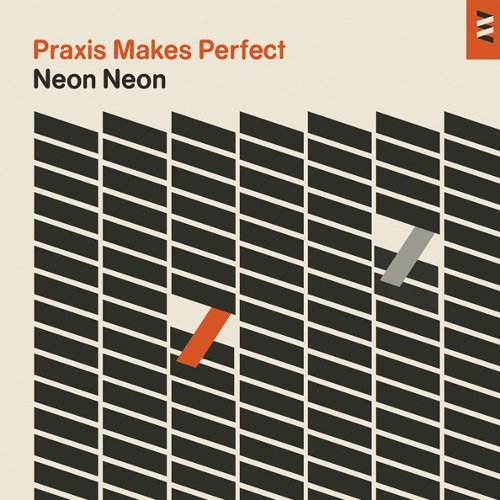 Zaz – Recto Verso
Isabelle Geffroy, aka Zaz is a French pop / jazz singer. I know, you've never heard of her but she's triple platinum in France and Germany loves her. I got turned on to her by a friend with great taste who adores her so I had to find out what all the fuss was about. Her songs are infectious. You can't believe how she vocally dances through her songs saying SO MUCH, so powerfully at that tempo! I love "On Ira", "Comme Ci, Comme Ça" and "Nous Debout".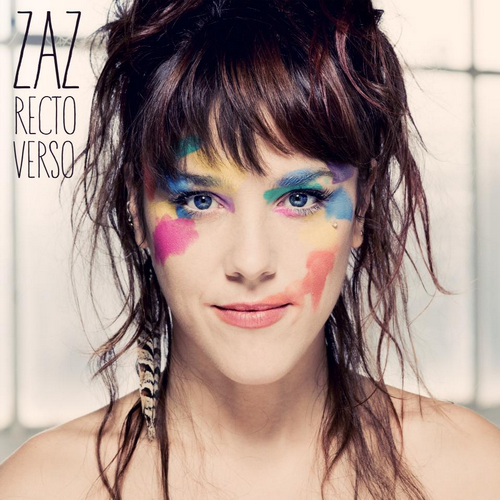 Kurt Vile – Wakin on a Pretty Daze
If you ask me what my favorite album of 2013 is, I will probably blurt out Kurt Vile! This one's not for everyone. It's that squeaky acoustic, thoughtful and clever guitar rock. It's great if you're super fucking depressed – or if you want to become super fucking depressed. "Wakin on a Pretty Day" is nine minutes, but it listens like a 5 minute track. It's really easy to get engrossed in Vile's voice and licks. They're all really clean and the album is pretty well produced. "Girl Called Alex" and "KV Crimes" are my other two favorites.
CHVRCHES – The Bones of What You Believe
I really really liked this album. They come from Glasgow, Scotland and singer Lauren Mayberry reminds me of Julianna Hatfield in the best possible way. I like CHVRCHES a lot better than anything by the Blake Babies. The synths are STRONG and creative and driving and her lyrics feel both uncertain and powerful, especially on "Lies".
Nine Inch Nails – Hesitation Marks
The return to roots with insane wisdom.
The addition by subtraction.
The simplicity.
The mature self loathing.
The echo of an echo of an echo listening to someone's cry for help.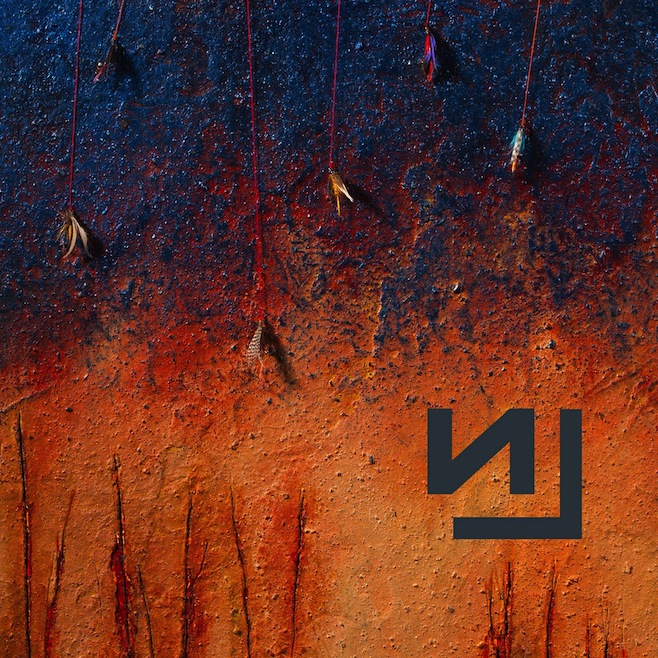 There you have it. Only 9 this year. I'm sure there were more. Throw em in the comments and thanks for encouraging my behavior.
I've joined Skyhook Wireless to pour gas on the company's already strong fire. For those of you who don't know, Skyhook is is the big data company that invented mobile location. Skyhook location powers 100s of millions of devices worldwide and our location and context products enable businesses to create awesome mobile experiences.
The story of Skyhook is not very well known and that is where the Marketing team comes in. While already strong with its technology, Skyhook is not resting on its laurels. There is an amazing company to talk about and a lot of work ahead of us to tell that story.
We are adding talent to our product, support, sales and marketing teams. We are re-imagining our brand and our website. Want to help?
Let's talk about marketing.
We are hiring product marketing talent to work with product, sales and support. Product marketers will own the product's value propositions, content, inbound and outbound campaigns. They are tight with the product team to understand the products. They focus on communicating the value to various audiences, product launches and inbound and outbound campaigns. They work with the design team and our social media manager to build campaigns and content to support sales and support. The team is really tight and all of the organization's ideas about the next generation of our products are considered.

We need user experience and graphic designers to bring the brand to life on the web. Our inbound marketing machine needs a ton of content from web pages to mobile experiences, to product design to infographics to white papers to stickers. There is a lot to do to bring the brand to life and influence the culture of the company!
We need a social media manager who can write! The social media manager is passionate about creating awesome content. They are in love with data and want to swim in what we have and build conversations around our 4 primary audiences.
We are also hiring sales, support and product people. If you're interested check out our careers page or tweet me.
Kibits [<-- app store link] is a new iPhone application launched out of Kendall Square in Cambridge, MA, one of two ridiculously hot technology beds in the Boston area. Founder Matt Cutler calls Kibits an "app to be used in the real world", but I am not sure that really captures the essence of what is happening.
First and foremost, Kibits has a lot going on. That's OK for you because if you are reading this blog, chances are you are a startup enthusiast, CTO or CEO, a venture capitalist with ninja mobile skills, a social media power user, marketing wizard or Edward Boches, who is impossible to put into any one bucket. It takes the best functionality from mobile, social and business tools and puts them into one app.
Kibits is great for many things, but what I think is most compelling is its PRE / DURING / POST model around the following uses:
A) Building content around an event or place
B) Proximity based real-time communication
C) Ongoing conversations about projects, recurring meetings and family business
The thing that Kibits does that many applications don't do is it allows you to access and share cloud-based assets. What? Yes. It's one of the first applications to have connections to you Dropbox so that you can share documents. Let's take a look at the use cases above in a pre / during / post context:
PRE
Kibits is awesome for pre-planning, pre-seeding content for an event. We used it at a Silicon Valley Bank event earlier this year. Matt pre-populated the "kibit" (aka group) with documents, ideas and photos that would give us a sense of who was speaking, the agenda and relevant writings from the speakers.
DURING
People were then allowed to join the kibit based on their proximity to the event and contribute to a very rich, relevant discussion about the speakers. Sure, this can happen on twitter and kibits should allow people to cross post, but the real power here is in the threading of the information, the virtual breadcrumbs, no, LOAVES of bread that kibits leaves behind are amazing. You get a full sense for what happened at the event given participation. Caveat: Matt and I both wrangled as many people as we could at the event, got them to download the app and asked them to participate in the discussion, in other words, some assembly required, but it was worthwhile.
POST
The conversation can actually continue for days, months or years (in theory). People can stay connected and know exactly how they were connected because they're still talking about the event, with the people they connected with in the same context. In other words, the value of events can be extended by Kibits.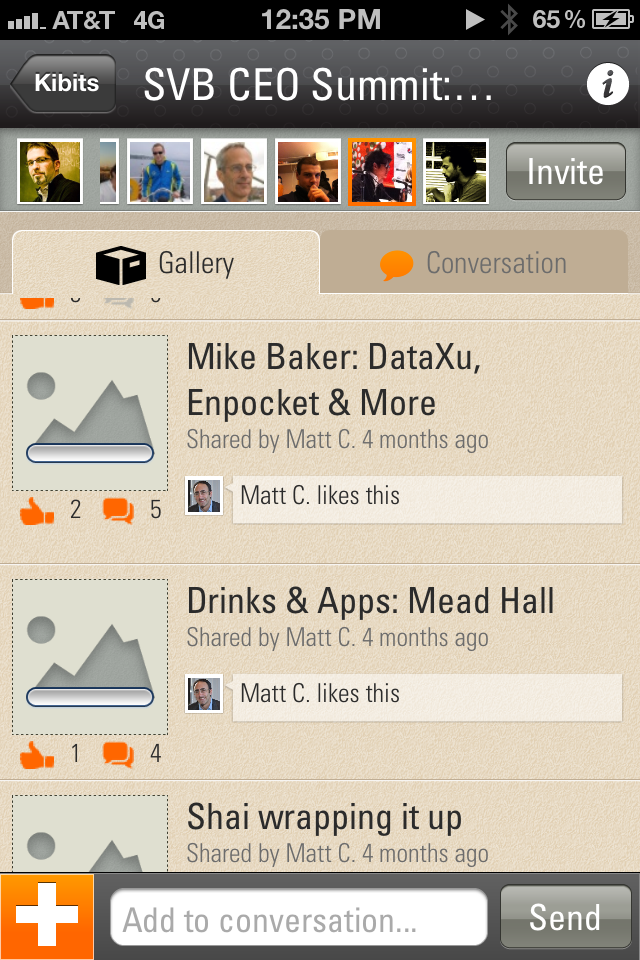 So head to the app store today and give Kibits a shot and let them know what you think. They are very interested in feedback and please note, there is a bit of a learning curve at the beginning and they are very open to feedback.
Path is not your typical social network yet many people familiar with social media try to use it like every other network. They spend their time trying to friend as many people as possible to create yet another noisy stream (#yans).
The application is actually built around the principle of Dunbar's number and beckons you to invite your closest personal relationships so that you can have the most meaningful experiences. I recently sat down with Path CEO, Dave Morin to ask what people should do when someone that is not an intimate person friend wants to be a part of their social graph. Dave believes that you are doing people a favor if you ignore their request. Path is supposed to only be the content that you care about and that you want to see from the people that you care the most about. It is your personal journal and so you should not have anyone reading it that you would not want to share the fact that your kid scored the game winning goal in the soccer game.
I hear from people all the time that Path is incredibly cool looking, but that it is not for them because their friends are not on the application. I have a bit of a different philosophy. Users who like the concept of Path should just start using it to do their life journaling. The app is incredibly versatile and can be your means to publish content to twitter, Facebook, foursquare and even Tumblr and it makes a very cool timeline that can quickly remind you of all of your adventures. Create all of your mobile content on Path, push it to other networks when you feel it is appropriate, but make Path the hub of your mobile content universe. Do this even if you do not have any friends on Path. If you need help getting people on to Path, ask them to take the Path Challenge.
If you journal, when you start to work on your friends and family, you can show them how beautiful the app is with a lot of your own data. You can take them through the fun creation process, show them how quickly it uploads video and how easy it is to look back over time on the things that you did. Dave tells me that people love to take pictures of food, menus and other artifacts that give them clues as to how the experience was at a restaurants, bar or other awesome place. I believe that Path is what Gowalla wanted to be. It's your personal log of not only your adventures but of your life in general. And it's going to get better with the Nike Fuelband integration which will export data to Path via bluetooth.
Remember, Path is an intimate social network. You are supposed to only be friends with people who you are close enough to to care about all of the content they create. This is what makes Path awesome. I am using my Path to get to interact with the startup scene, share with allen & gerritsen people and with some very close friends like my book co-author, Aaron Strout. I am actively trying to recruit my family, but they are still resisting, yet they seem to almost be coming around. And I will not rest until they do.
The new Path user interface is gorgeous. Dave Morin's team has come up with a user experience that will change the way that people think about application design.  Path abandons the standard bottom toolbar that most consumer behavior oriented applications have for 2 buttons in the sticky header and a red plus sign that looms on the bottom left hand of the screen. Clicking the plus sign reveals a swiss army knife that allows you to add a new journal entry starting with a photo, a person, location, song, thought or your lucidity state. The last of which would be even cooler if it was integrated with life stats hardware like the Fitbit or Jawbone Up.
The new user interface is gorgeous. It is UX pr0n and this version of Path will change or at least challenge the way that every app designer thinks about every consumer app they design moving forward. One of our best designers, Charlie Guerrero picked it up for the first time this morning and was blown away by how fluid and responsive the app is for everything that is going on.
The application is clearly designed after the Facebook timeline. They have adopted the cover concept as well as the entire timeline concept. What Path does better than any other application is that it tells you who has seen your post. That is really quite bold.
Here is the problem. It is still just Path. While I think that the new design pattern will inspire a lot of curiosity, I see more applications adopting this style of design than people actually making Path part of their daily routine. In other words, in spite of the fact that it can post to Facebook, twitter and foursquare it's not going to replace Facebook mobile unless Facebook acquires Path and decides to replace their mobile experience with Path. Path is decidedly cooler, but people will reject it because 700 million of their closest friends are on Facebook and this is essentially an alternative.  The adoption of many of Facebook timeline's design patterns coupled by the fact that founder Dave Morin is ex-Facebook and still has strong relationships could be an indication of an exit strategy. Time will tell.
Another thought though: It knows where you are, who you are with and it knows if you are sleeping and knows if you're awake. If they just add an indicator for whether you are bad or good they could have a suitor at the North Pole.
My friend Jay Staggs loves and hates Klout. His favorite saying about klout is also the title of this post: "Klout lies!". He and the gang at MurphyUSA have a friendly competition around Klout scores and Jay gets really wound up every time the site makes significant changes to the algorithm or Casey Petersen encroaches on his lead. Jay is a competitor. He likes to win. I like Jay.

Hiroki Murakami, a blogger at The Next Great Generation and aspiring adman wrote a cool post entitled Klout Updates Its Super Secret Algorithm of How Cool You Are. He interviewed me for the article via Google+. Some of the material hit the cutting room floor, but I think it's worth posting here.
HM: Did the new Klout algorithm update improve the service? Is there greater transparency or effectiveness?
SM: I don't know that the new changes improved the service. The nice thing about twitter is that it's a level playing field where people act like brands and brands act like people. Klout seems to be trying to make it more like a caste / class system with the scoring.
HM: Any educated guesses on Klout's secret sauce (how their algorithm works)?
SM: I'm guessing the algorithm has a few different elements: frequency, "recency" and something like Google Pagerank where your Pagerank is a function of the Pageranks of sites that link to yours. In other words if you talk to personas with high klout and they talk to you your klout improves.
HM: Do you think that influencer rankings like Klout or PeerIndex as a concept are generally a good invention?
SM: The purist in me doesn't like the public scoring. I think it would be cool if Klout scores were private and Klout found ways to give brands access to them. I don't care for the spectacle and I don't care for the elitism. I'm not sure it would be the advertising "success" that it is if they did things differently. The thing I like about Klout is the attempt to segment people based on their high influence conversations. They aren't ways right: I'm apparently influential about Tylenol and the New York Yankees. What?
I like the ideas behind Klout. I want to know who is influential by topic so that I can follow them. That is really interesting to me. What I dislike is that Klout is a disruptive change to the ecosystem and actually changes behavior instead of just measuring. The topics that people are influential about are wildy inaccurate.
It's trendy to say you do not care about Klout scores, but the fact is that there are a lot of people out there making big bets on Klout. People are changing the way that they communicate with others, changing up follow strategies etc based on Klout scores. You know who you are.  While you are making changes and talking to more cool kids, I'd caution you to heed Jay's warning and please do not talk to me about the Yankees.
Facebook recently announced that they were taking away the ability to check in, thus killing their offering, Facebook Places. This did not come as a surprise to anyone who has been listening to me spout off about the space because my contention has been that Facebook does not intend to kill foursquare, rather they meant to test into whether or not someone in the main stream would actually purvey the unnatural behavior of the check in.
Again, the Unnatural Behavior
Enter a place (some people skip this step)
Take out the phone
Find the application
Friends start to get a little annoyed
Open the application
Click the places or check-in button
Spouse apologizes to friends
Find the place in the list
Click on the place
Friends think "whatevs" and go find a table without you
Click check-in
Reap the benefits of telling your friends where you are and how cool you are [points, badges, status updates]
Repeat for as many systems as you care to check into
Sit down to find out your friends have ordered you a Michelob Ultra. That will teach you!
They Didn't Want To Do What You Thought They Wanted To Do
Why hasn't Places "worked" for Facebook? The answer is quite simple. They did not want to build the model that everyone thought they wanted to build. In other words, they were not trying to replicate foursquare. My theory is that they did not believe that the mainstream would check in and therefore did not exert the kind of energy necessary into building the necessary components to make it valuable. In order for this stuff to work, you either need to build a self service model with a clear list of services, an API that allows people to build whatever they can imagine, a sales team to sell specific services into merchants or all of the above.
Facebook's tests with companies like The Gap and REI obviously did not get them jazzed up enough about the platform to invest in the types of developer and infrastructure resources necessary to catch up to and overtake foursquare. It would be one thing for Facebook to use itself as a marketing engine for the platform which, allegedly at one point had 30 million users, but it is another thing to actually have something that pays off any claims that using Places adds value. They could have had more people checking in, but without any way to substantiate value claims- to what end? I'll answer that question with a collective "meh" from the user base. To top it off, there is still a large group of people who wonder why they should be telling anyone where they are going for fear of some kind of personal security breach. We know that Facebook has been mired in these sorts of problems anyway. So Facebook has quietly taken a page out of Google+ and is allow users to attached their location to a status update instead of checking in.
They Already Have the Data
Most LBS applications have a way push their check-in data to Facebook. Facebook has the Places database to take that information and enter it into their Places database in such a way that they can use it later. The funny thing here is that they do not and actually never needed to create a check-in application to reap the benefits of getting the data from check-in applications.  In other words, when you push your data to Facebook, they are not just letting it slip into an abyss, they are actually keeping it and creating a profile about users to better target them with advertisements.
Facebook has one of the biggest stores of social and location information. Add Facebook credits to the mix and you get a slice of the big chalupa: social, location and purchases across merchants.  As I mentioned before, the Places database brings structure to this mix and allows Facebook a mix of flexibility and ability to analyze. The latest iteration of location for Facebook now gives you the ability to attach a location to a status instead of checking in. This is far more natural and who cares if you're actually there? Not Facebook. They now are tracking where you have been or where you aspire to be. There are plenty of possibilities that this opens up, not the least of which is day. In other words, helping you determine what you want to do in a city based on where you've been, where your friends go and where people like you like to go. Given the data that they have, they could do much of this without asking you questions ala WHERE, Alfred, Bizzy and some of the other prediction engines. Certainly none of these models are perfect, but Facebook has the critical mass of data to test and tune their model before they release. Why would they do this? Ad revenue. Allowing companies to be recommended in appropriate places. If Facebook knows you like coffee and are staying in Hell's Kitchen, but there are 10, perhaps companies could pay to have their businesses be recommended more often.
Key Takeaway
Here's the point. If you take away one thing from this rambling blogpost: Places, the Facebook feature may be dead, but LOCATION IS VERY MUCH ALIVE AT FACEBOOK.
The daily deals space has been hotter than a habanero pepper with sriracha sauce, but each of the daily deals sites faces a problem. They do not attract people who are going to become loyal customers, but rather a crowd of people called "deal seekers". Cambridge, MA based SCVNGR's latest creation, The LevelUp (currently in beta in Boston and Philadelphia) aims to change that. The LevelUp is a daily deals site and iPhone app that is designed to acquire customers, but also to get people to return and continue to spend money. Unlike sites like GroupOn and Living Social which give a single deal for a venue, The LevelUp allows users to unlock 3 levels of deals. The theory here is that they can get people to come back, to train a behavior, to inspire loyalty. After trying the LevelUp, which is in beta in Boston and Philadelphia, I think there are on to something.
Mobile Commerce
The LevelUp is not just a daily deals site, it also incorporates mobile payments. It allows you to store a credit card in your phone and scan a QR code (yes, it's encrypted – we scanned it to test the security) at point of sale to pay. You are automatically notified of the amount that you saved and sent an email as a backup. The LevelUp eliminates the biggest barrier to mobile payments by not requiring an integration to point of sale systems. Merchants are given a unit (see the picture below) that they enter the transaction amount into and The LevelUp takes care of the rest. Merchants do not need to worry about a coupon code, deal activation or bonuses and multipliers. The merchant application is simple. They can enter transaction amounts and get a transaction history.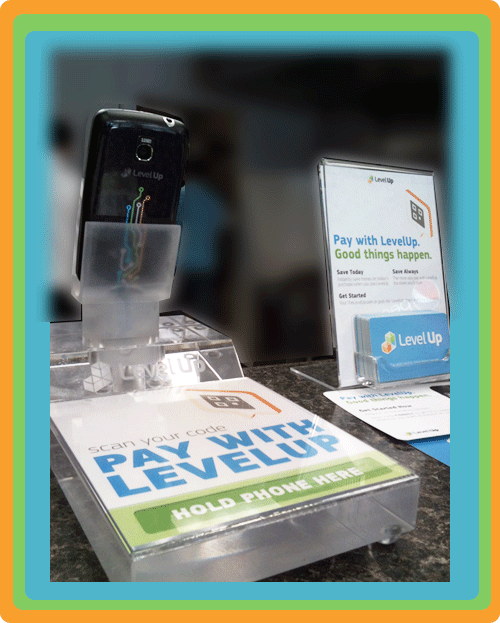 The consumer experience is also easy. Once you have added a credit card, It is a two step process.
Open LevelUp App
Scan QR code to pay (you can optionally lock this screen so that you need to enter a passcode if you want to)
An ancillary merchant benefit to this is that The LevelUp takes Visa, Mastercard and American Express even if the merchant doesn't! I do not have the numbers on interchange fees charges for the merchant, but I have heard that there is a cost savings by using the LevelUp.
The LevelUp unfortunately has not solved (yet) for the problem of capturing an itemized basket. As I said before, the merchant just enters the entire amount of the transaction. This tells me that the user spent money and how much they spent, but it does not give me a sense of the specific items that they like. That said, it does give The LevelUp a picture of user behavior across locations that gives them insight into how the mobile deal seeker behaves. This allows them to potentially serve smarter deals based on where they think users are most likely to spend their next dollar on a deal. Sure it would be great to know specifics about items and the things that users purchase, but let's look at what they do know:
Place and the semantic data wrapped in a place [category, region, city, state, zip]
User's Facebook account (if they login on Facebook)
Email open rate
Deals viewed
Deals unlocked
Deal executed
Deal levels achieved
Frequency
Lag [time between unlocking deals]
Purchase amount
The goal is to minimize the lag between visits while increasing the both the frequency and purchase amount. In other words, more expensive visits more often.
Three Levels of Deals
When Eric Leist and I went to Bocca Buona in Brighton, MA, we got $4 of credit. That was the first level of deal. The LevelUp attempts to train users to keep coming back to the venue by giving them a second level deal upon using the first and a third level deal after the second.
Eric and I found Bocca Buona's level 2 was peculiar. They offered us $5 off of a $50 purchase. Because the initial deal was $4 credit and there was no caveat on the amount we needed to spend, this seemed like it was moving us into their catering business where people might be inclined to spend more than their sandwich, pizza and calzone business. Even a family of 4 would be challenged to spend $50 there to eat lunch. Then we realized that the LevelUp keeps track of our purchases over time, similar to the way that SCVNGR allows you to do challenges and rack up points over multiple visits to unlock specials. This made a hell of a lot more sense. In other words, the LevelUp encourages users to repeat the previous behavior before unlocking the next level of the deal. Assuming Eric and I returned to Bocca Buona for lunch and ordered the same 2 sandwiches each time, it would take us 4 visits to spend the $50 and unlock deal level 2.
So you could see merchants testing into some version of the following scenario to see how many times you can get a user to come to their store:
Level 1: $4 credit
Level 2: $5 credit after you spend $30
Level 3: $10 credit after you spend $75 over time
The first level of the deal is designed to acquire. The next two are designed to encourage repeat visits, to train and retain.
Gamified Response
When you scan your QR code, you will receive a notification on your phone (similar to a text message) that tells you that the transaction happened. I would post an example here, but the only one I have has my QR code in it and then you'd be able to use my LevelUp. It tells you the full amount of the transaction and then it tells you how much credit was
Another place we found a little confusing was the post transaction update. See, I had some kind of awesome $10 credit that I may received for signing up. This was automatically applied to my bill, so instead of getting the $4 credit, I ended up with $14. I went back to the merchant to see if they made a mistake. The nice thing about the LevelUp is that merchants never need to worry about whether a deal happened or not. The LevelUp takes care of everything. It even sends you an email so you have a record of the transaction. The email, however is  a tad boring. It's plain text and is a summary of what just happened in aggregate. I would have at the very least liked to see: you used your $4 credit and used the $10 bonus credit that you received for referring a friend. The LevelUp team has a great sense of humor and can do a bit better. Have you read their blag?
No Checkins (Yet)
SCVNGR users and LBS fans are probably wondering: "What about check-ins?" The LevelUp does not do check-ins but this could easily be integrated with SCVNGR, foursquare or Gowalla to add a passive check-in that happens when the user pays. The LevelUp could eliminate a lot of steps in the check-in process which is currently.
Take out phone
Find app
Open app
Click places
Find place (or search for it or add it)
Click check-in
Take out wallet
Find cash or credit card
Scan credit card
Sign stupid receipt (i always sign mine 'Sexy Hamburglar', no one has ever said anything)
With LevelUp
Find App
Open App
Find Place
Scan QR code
(never touch your wallet)
All in all I found the LevelUp to be an excellent experience and one that I plan to continue using and recommending to friends and clients. What do you think? Have you had a chance to try the level up?
In my last exciting post, I talked about how Ditto unleashes the power of semantic data and how awesome it would be if you could harness the power of the data behind a location in foursquare or Gowalla or a dish in one of my favorite applications,foodspotting.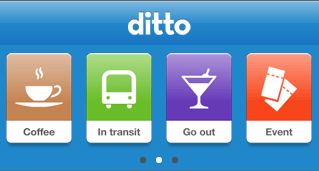 You may recall that Ditto allows users to express their intent in a particular neighborhood and that it does it in such a way that it does not leave much to the imagination. In other words, we KNOW you want coffee, what kind you want and where you are.
Imagine businesses were to begin taking advantage of this and providing a user reasons to come see them. What if businesses could monitor for people who needed them similar to the way that Uber allows black car drivers to see if people need a ride during down time. The example I always use (and I am waiting for this to happen) is that I am in a neighborhood, I say that I want a latte and a coffee show responds with "Hey Mike, come on in. We will save you a spot next to the window and you can use our free wi-fi. Do you like caramel in your latte? What kind of milk?" I would be thrilled and I would act immediately without worrying about whether they were giving me a dollar off.
If businesses could use Ditto similar to how Uber is used, to fill times when they are not full, to attract new customers with or without offers and people could do everything from accept a deal to pay with Ditto (similar to what is now happening with Zaarly) it would open up a great deal of possibilities for interesting data and segmentation. Take a look at this concept of a merchant side ditto application that allows a coffee shop to monitor the area "Bananatown".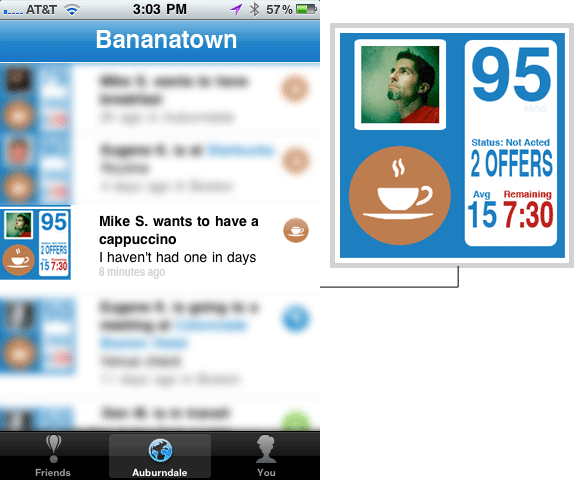 Notice that each of the people who want coffee in Bananatown have a series of stats. These are based on their actions through the Ditto application.
Probability: This ratio is the amount of times a person has acted versus the number of times they have expressed an intention to act. Below it is also the true number (in this case 48/50). This tells the merchant how likely the person is to act on an offer. Mike is extremely likely.
Offers: The next number tells how many offers Mike currently has and whether or not he has acted on one.
Average / Remaining: This tells the merchant on average how long Mike takes to act and how much time has elapsed since then, making it easy for them to tell whether they should act.
I also imagine having ways to tell what kinds of offers that Mike responds to – deals, invitations etc. I see businesses being able to set thresholds based on certain types of activators and automatically pushing an offer within a neighborhood (geo-fence).
How else would you like to see the data segmented? Do you think that this kind of merchant model is the key to Ditto user adoption?
Last week I attended Social Loco as a speaker (thank you Mark Evans) and got to hear Ditto CEO Jyri Engstrom sit on a panel called Enabling the Users' Revolution: from infrastructure to consumer apps. I have been following Ditto since it came out and have been wondering about how it will be used. Some call Ditto "future foursquare" where I prefer to call it "semantic twitter".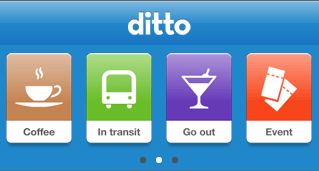 These comparisons are interesting because Ditto is an application that allows a user to announce their intent. One calls is future foursquare because it supposes that you might eventually check in someplace. I prefer semantic twitter because some of the things that you intend to do may not necessarily result in checking in, but are nonetheless very valuable. A user starts by identifying a type of activity by clicking on the "crayon box" at the top. They can then click again to refine their preferences. For instance if you want coffee, you can click the coffee icon a second time and pick that you want a latte. Others can then make suggestions about where you should go or, noticing that your location is attached to your ditto, they can decide if they would like to join you in your quest.
Semantic means structure. Semantic data is expressed the same way every time so that it is easy to analyze and act on. Ditto thrives on making structure easy, but even I was not prepared for what Jyri Engstrom said at social loco. He supposed that if he used Ditto to express that he wanted to go to a restaurant (and I cannot remember which kind he said, so let's say dim sum) that someone might be able to eventually go to Foodspotting and share a dish with him.
My jaw dropped and the wheels started turning. Why is this brilliant? Sharing a dish from foodspotting is not just sharing a picture or even the name. A dish in foodspotting has a set of common attributes:
dish name (which is standardized so that each of a certain kind of dish is nicely grouped)
location
4 different rating types
user who spotted
guides it belongs to
comments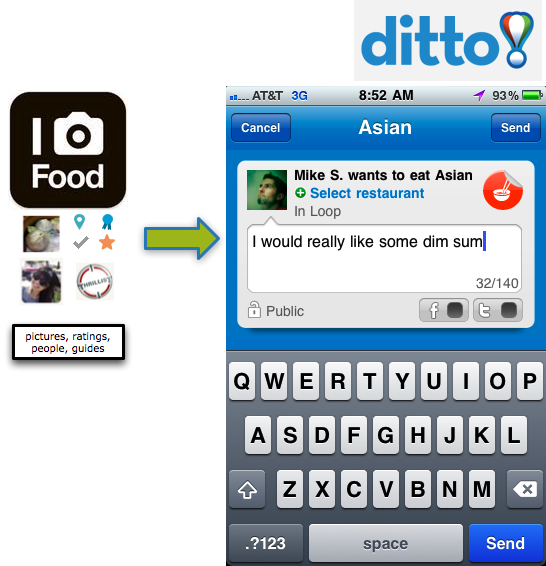 The attached data makes the suggestion far more powerful than someone just saying: "Go to Hei La Moon." With foodspotting the person knows where to go, what people think, what the dish looks like, its exact name, other dishes at the restaurant, other spottings from that person and more.
There are endless possibilities to integrate Gowalla, foursquare, Yelp, OpenTable and more to the application. What would you integrate? Coming up in my next post, a look at a potential business model.